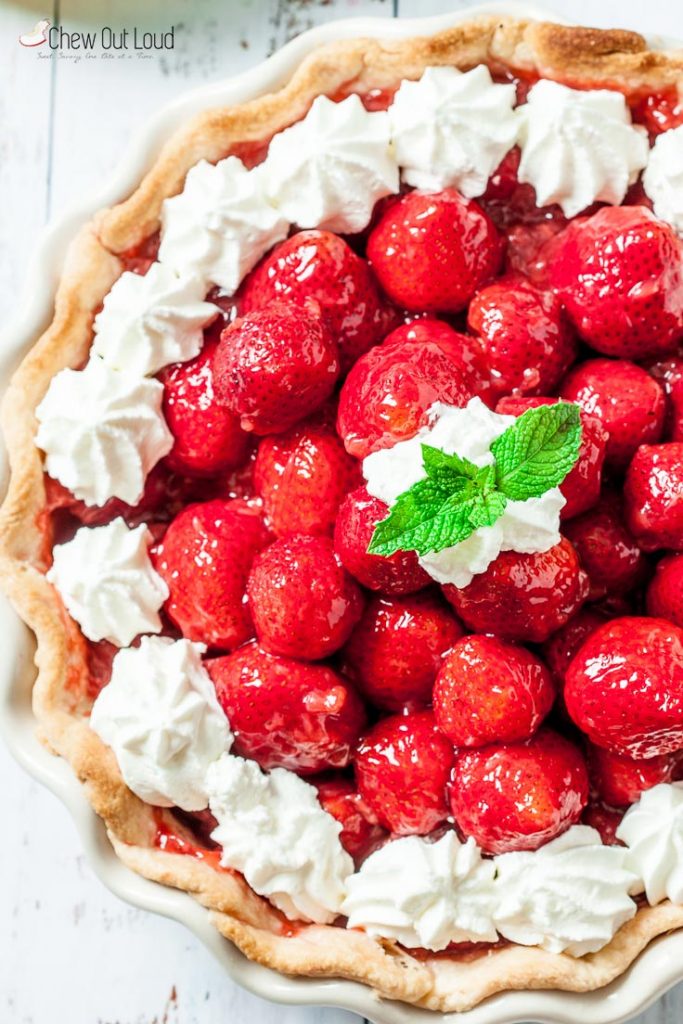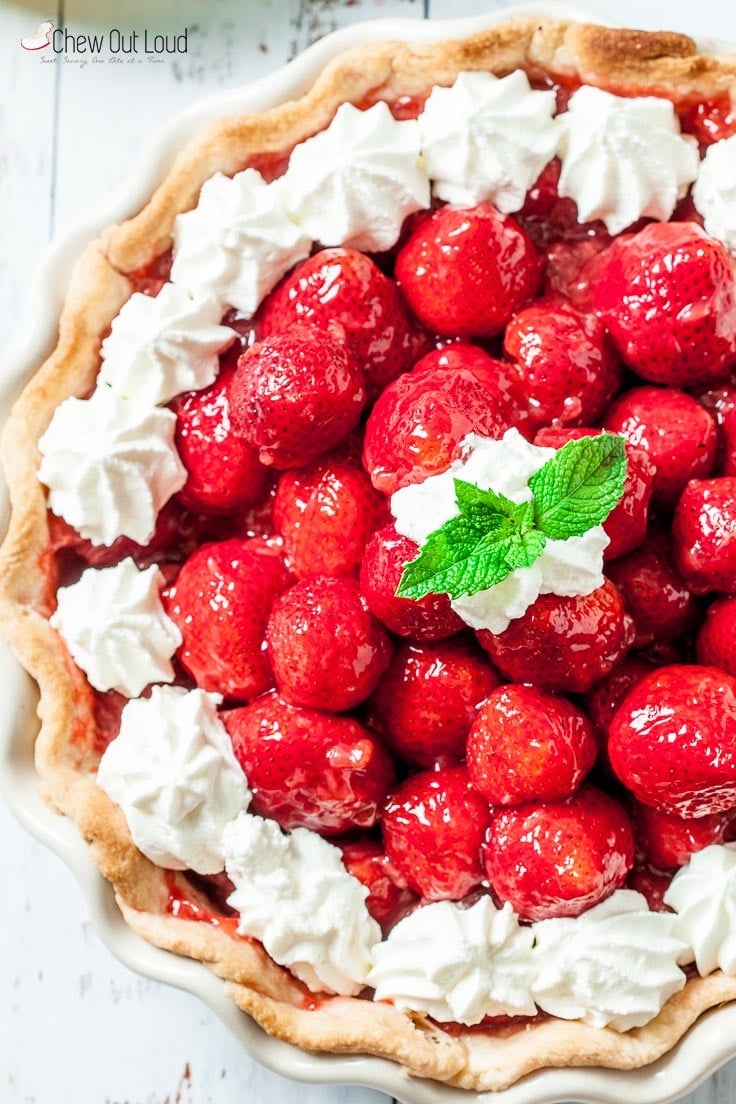 Fresh Strawberry PIe
Around here, we're really into fresh berries all summer long. Straight from the farmer's market or in the form of pie, you just can't go wrong.
Also, we're all about the buttery flaky crust (no shortening here,) which hugs all the very best pies. From the Best Fall Apple Pie to this luscious Summer Blueberry Pie… it's gotta have a flaky butter crust.
All this pie talk had me dreaming of fresh strawberry pie for days. So here it is. This fresh strawberry pie is even better than our favorite restaurant pie – we get to pick the best ripe berries and use only 3 real and simple ingredients to let the strawberries shine.
---
---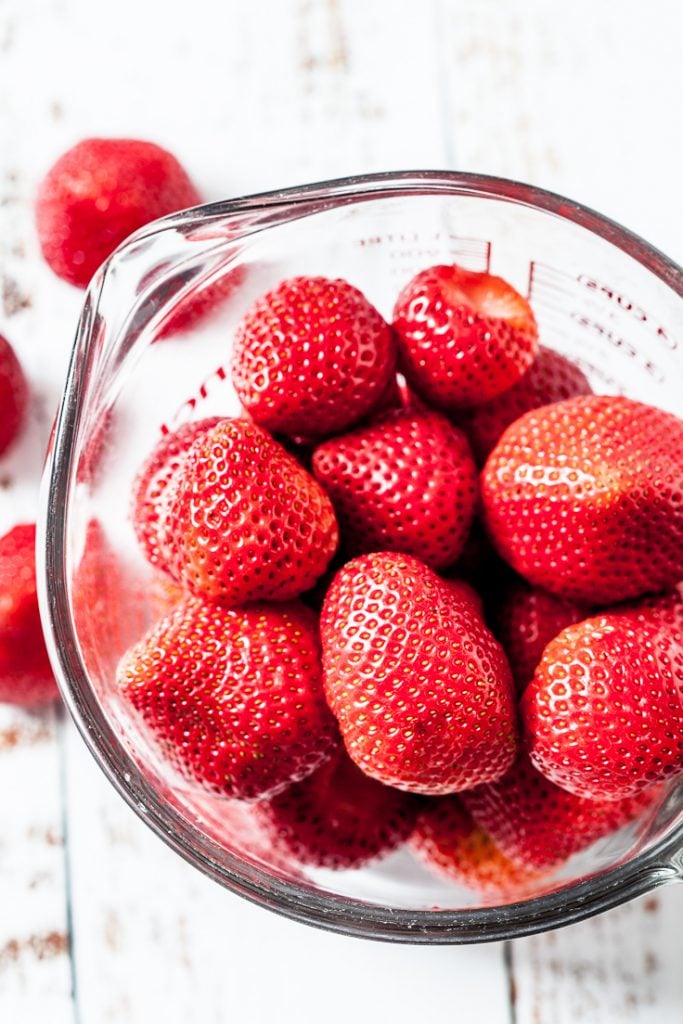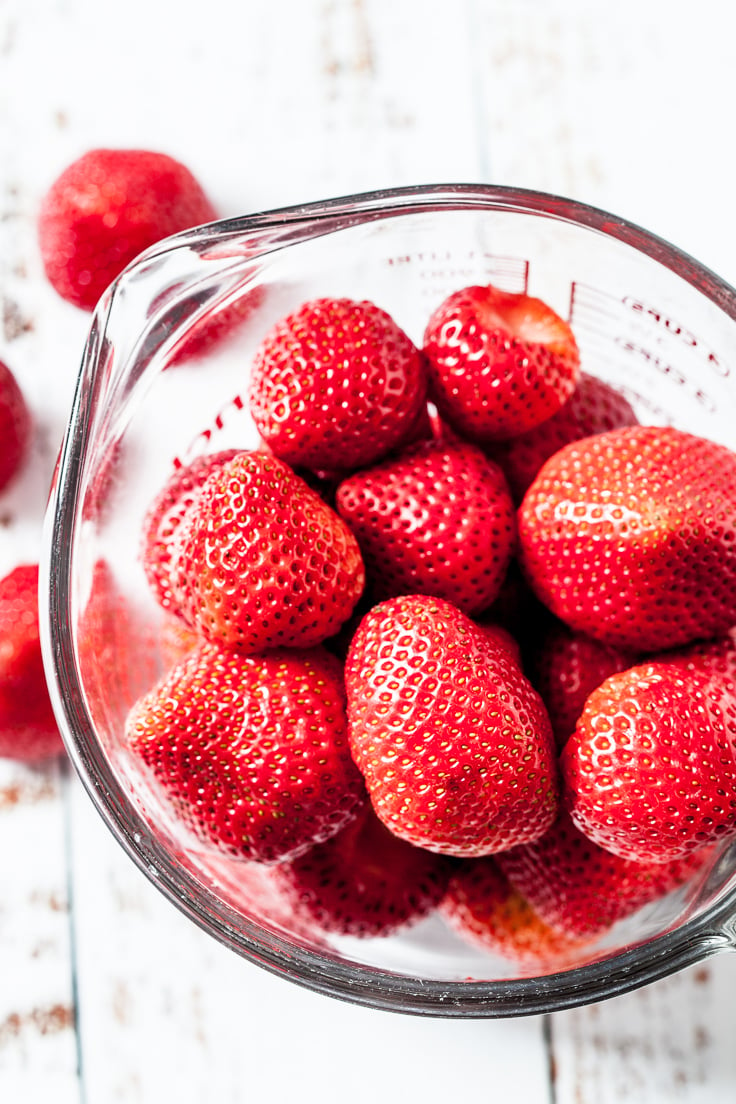 How to Make Fresh Strawberry Pie
A great pie always starts with a great crust. Our fave is this all butter (no shortening) crust that results in tender, flaky amazingness. Once you make the recipe for double crust dough, divide it in half. Use one crust for this strawberry pie and freeze half of the dough for next week's pie 😉
Making your own amazing crust is really not hard, but if you'd rather brush a cat's teeth than make pie dough, there's no judgment for buying prepared dough. Disclosure: it won't taste nearly the same because it just can't, but it will work in a pinch.
You'll bake the single crust in empty pie pan — known as blind baking — with pie weights to help the crust bake without puffing or bubbling up. You can also use dry beans or rice for DIY pie weights.
Use the freshest, juiciest, ripest red strawberries you can possibly find. Be picky here, because the quality of your berries are everything in this strawberry pie.
We make a super simple strawberry filling with just 3 real ingredients: fresh strawberries, sugar, and cornstarch. That's it. We cook down the filling until it's perfectly thick and glaze-like. Nothing artificial, no fake colors, and only huge strawberry flavor. I'm tempted to make this filling to use as fresh jam over my daily toast. #thatgood
It's important to let the filling cool to warm or lukewarm before pouring it all over the fresh berries that you've arranged in the baked pie shell. Then, you just set it in the fridge to chill and forget it for a few hours until it's the perfect texture to dig into.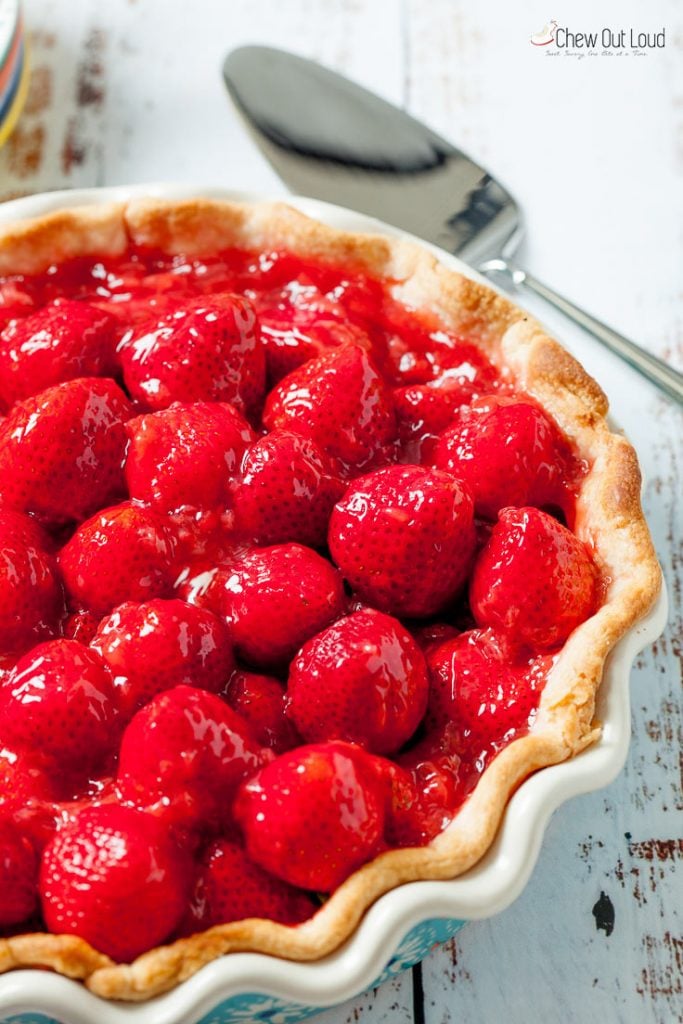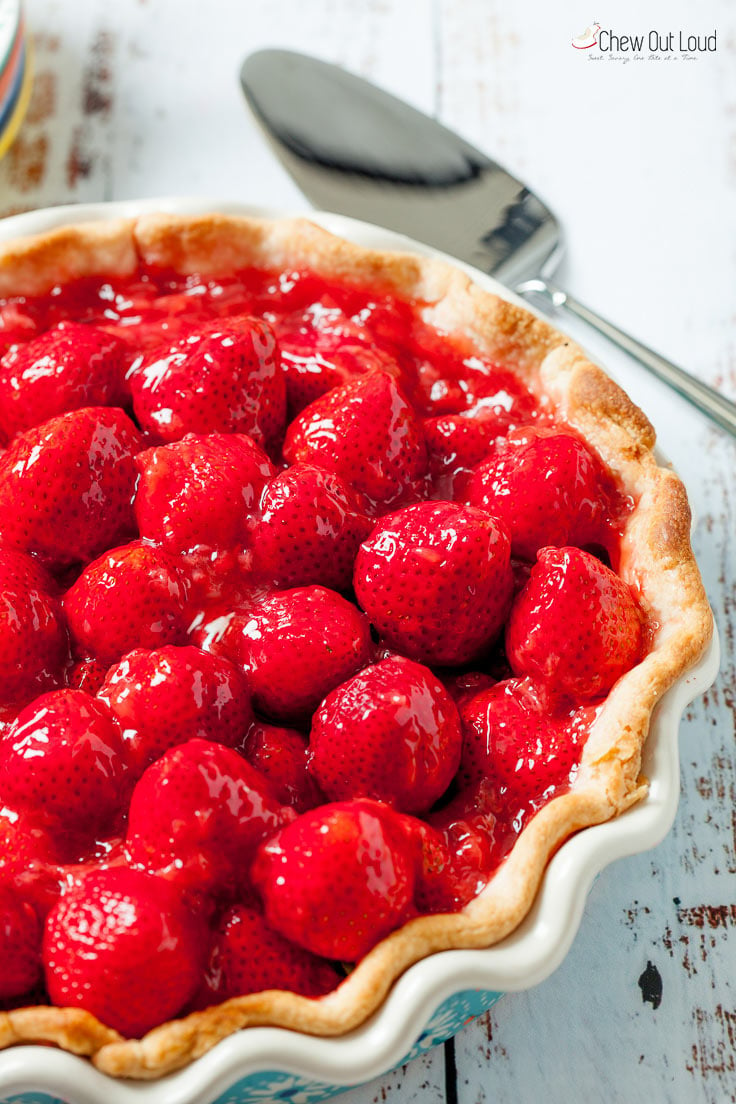 Nothing Beats a Flaky, Buttery Crust
Just salivating over the fresh, juicy strawberries. ⇑ The perfectly sweet and flavorful berry glaze. ⇑ The flaky crust. So Good. 
This stunning strawberry pie genuinely doesn't need any embellishment. It's perfect the way it is. But if you're tempted to pretty it up…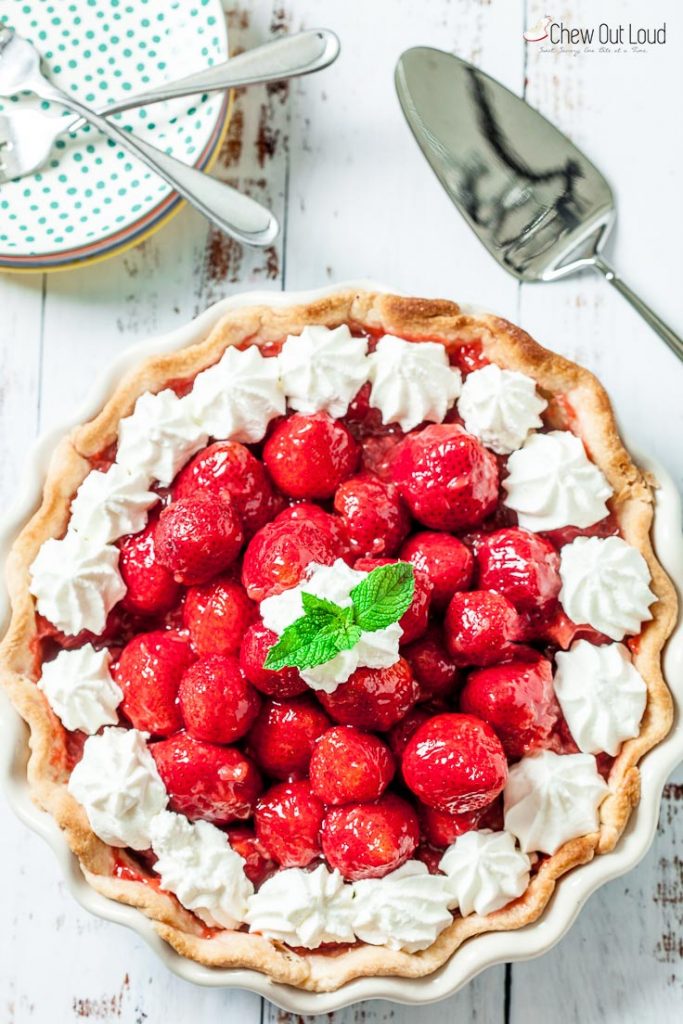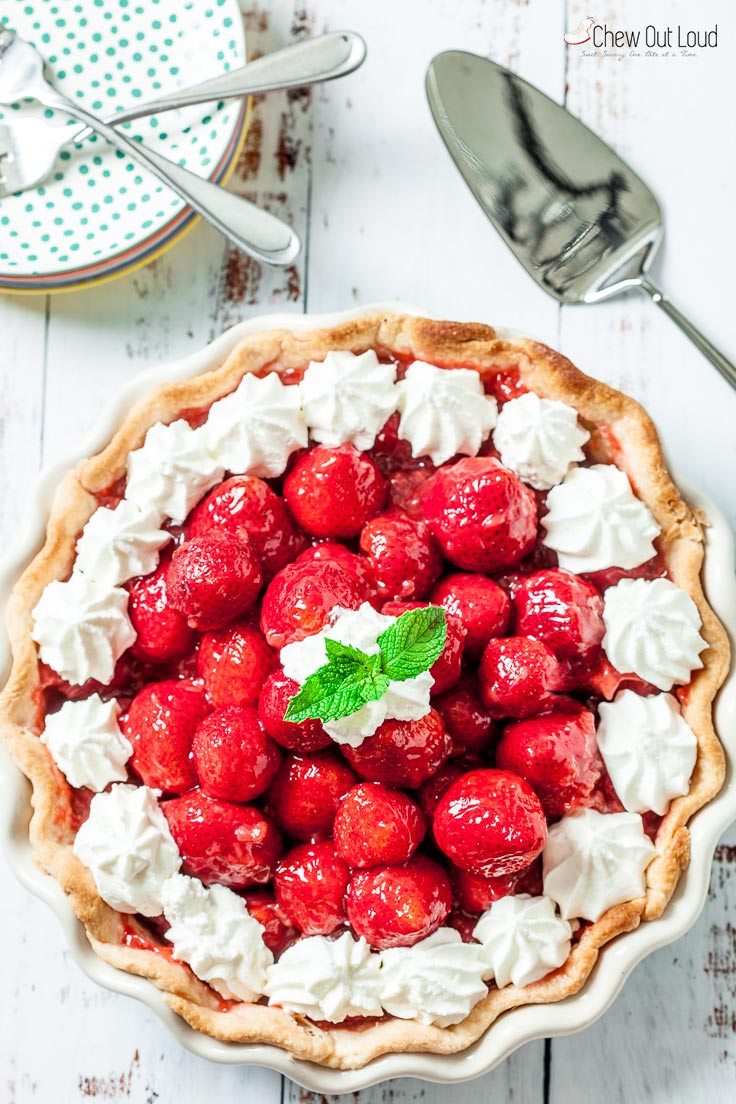 Stabilized Whipped Cream Won't Lose its Shape
Some fresh stabilized whipped cream makes it extra cute. Strawberry Pie, you look simply ravishing right now. Evidently, everyone in my crew thought so too, because I only got a skinny sliver of pie before it was All. Gone.
This strawberry pie technically can feed 6-8. In my hungry house, it's more like 2-3.  I'm sorry I can't tell you if leftovers keep well, because I'd have to make three pies simultaneously to know the answer.
I'm headed back to the local farmer's market for more berries very, very soon.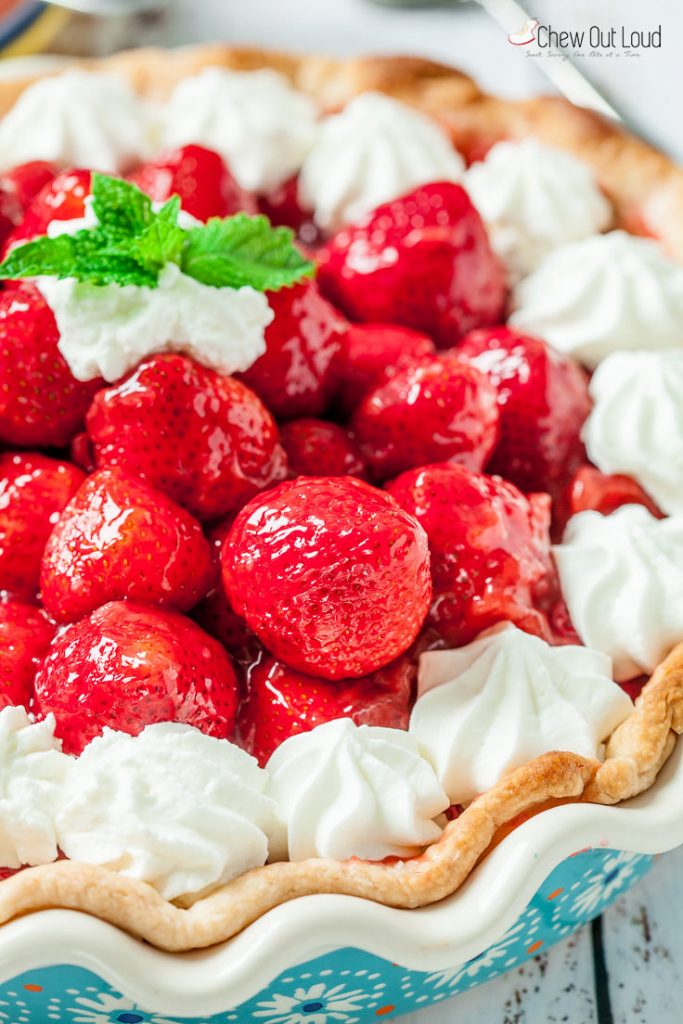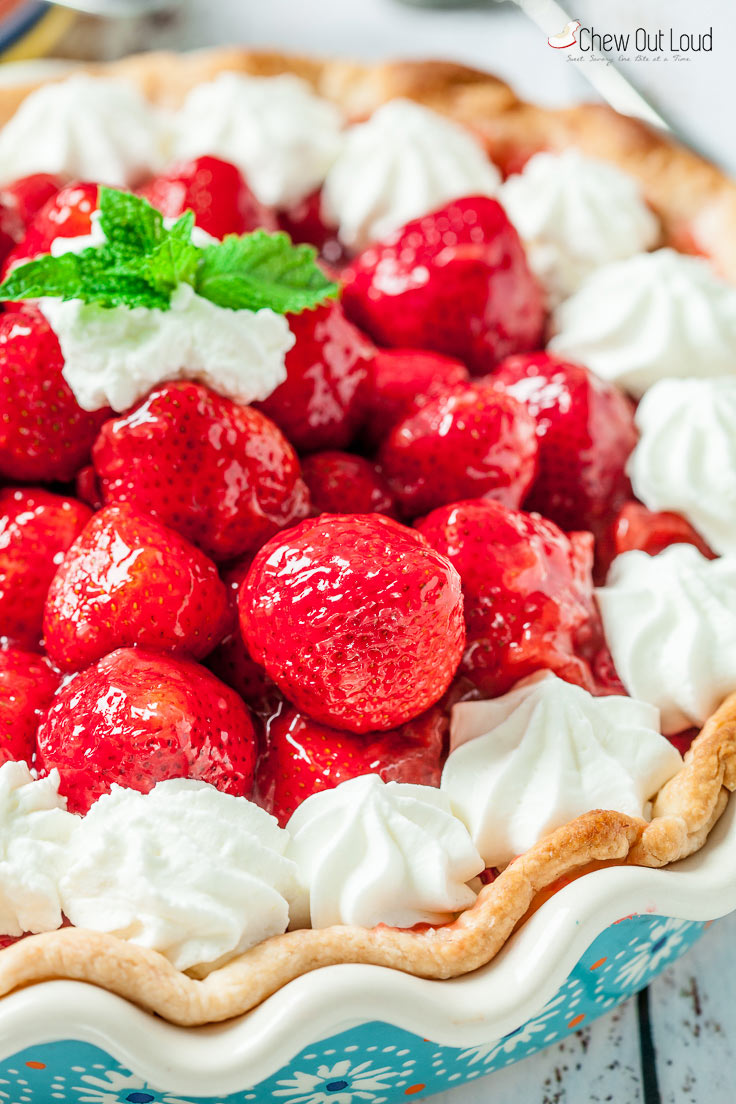 Fresh Strawberry Pie
Commonly Asked Questions
Can I use frozen strawberries in strawberry pie?
We strongly recommend that you use fresh strawberries, as frozen berries tend to contain more water. Though they may work for mashed berries, they won't hold up well whole, nor will they have the desired texture.
What if my strawberry pie filling doesn't set?
To ensure your strawberry pie sets, be sure to follow instructions for the thickening with cornstarch, which requires that cornstarch is fully dissolved with water prior to adding to filling. Be sure to give allow pie to fully cool at room temperature, followed by chilling in the refrigerator, for it to set.
Can you freeze baked strawberry pie?
We do not recommend freezing fresh strawberry pie, as the texture may change after freezing/thawing. Enjoy your pie fresh!
How long will strawberry pie keep in the refrigerator?
You can keep strawberry pie tightly covered and chilled for up to 3 days in the fridge.
---
Watch this Recipe in Action
---
Print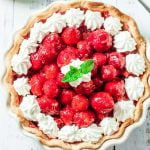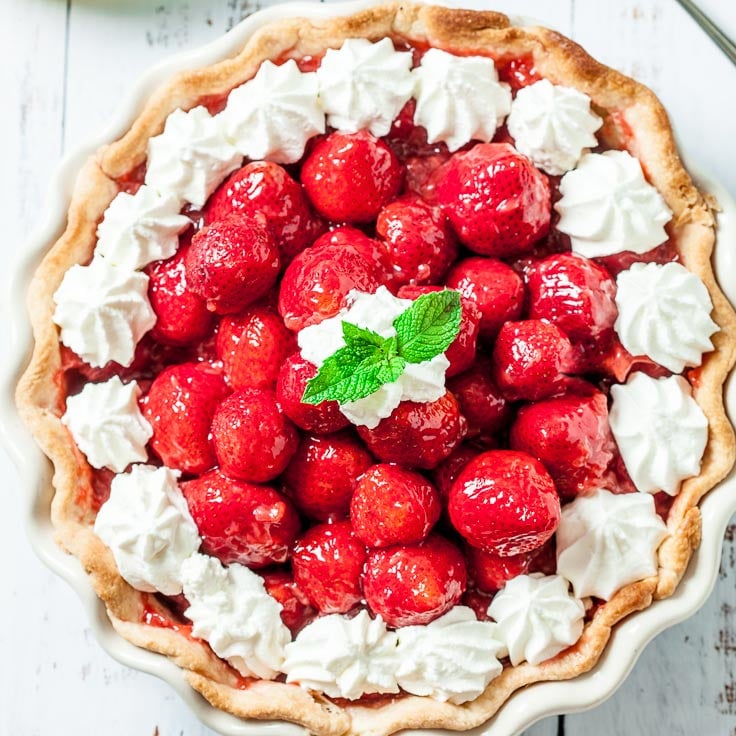 Fresh Strawberry Pie Recipe
This Fresh Strawberry Pie is even better than our favorite restaurant pie. It's fresh as can be, juicy, luscious, and stunningly delicious with just 3 simple ingredients in the filling. The all-butter crust is flaky amazing.
Prep Time:

45 min

Cook Time:

20 min

Total Time:

1 hour 5 minutes
Prepare: Preheat oven to 450F with rack on lower middle position. Press single pie dough evenly into bottom and up sides of a regular 9-inch pie pan (not deep dish.) Roll excess dough over edges and crimp well.
Bake Pie Dough: Line dough with parchment paper so that it's fitted and excess edges of paper extend 1-2 inches beyond pie pan. Fill with pie weights  and bake 12-15 minutes, watching so edges don't get over browned. Remove pie weights with parchment paper carefully and return empty pie shell into oven for another 5 minutes or until bottom looks dry/baked (cover loosely with foil if edges are cooking too quickly.) Let baked shell cool to room temp while you prepare the filling.
Make Filling: Mash 2 cups fresh strawberries. Transfer to a medium saucepan and add sugar. Bring to a boil, stirring often. Add fully dissolved cornstarch/water mixture and continue boiling/stirring for 2-3 minutes or just until filling is thickened and glossy. Transfer filling to a shallow dish to allow quicker cooling; cool at least 10 minutes or to warm/lukewarm.
Arrange and Chill: Place remaining 4 cups whole strawberries evenly into the baked/cooled pie shell. Evenly distribute filling mixture over the strawberries. Chill at least 2 hours to set, before slicing. Serve with whipped cream, if desired.
Notes
It is of utmost importance that your cornstarch is 100% dissolved in water; be sure there are no traces of undissolved cornstarch, as even the tiniest bit will cause clumps in the filling. Tip: use your fingers to swirl cornstarch in small bowl of water to ensure results. 
If you make enough dough for a double crust, wrap half of the dough airtight and freeze for up to several weeks. Pie weights can be made out of uncooked/dry rice or beans as well. To quickly mash strawberries, I place them in batches on a large cutting board and cover with cling wrap. Using a meat tenderizer, I give it a few mild whacks to mash in a jiffy.
Nutrition
Serving Size:
Calories:
Sugar:
Sodium:
Fat:
Saturated Fat:
Trans Fat:
Carbohydrates:
Fiber:
Protein:
Cholesterol:
Keywords: Fresh strawberry pie, homemade strawberry pie
Best Berry Pies 
Easy Blueberry Pie Crumb Bars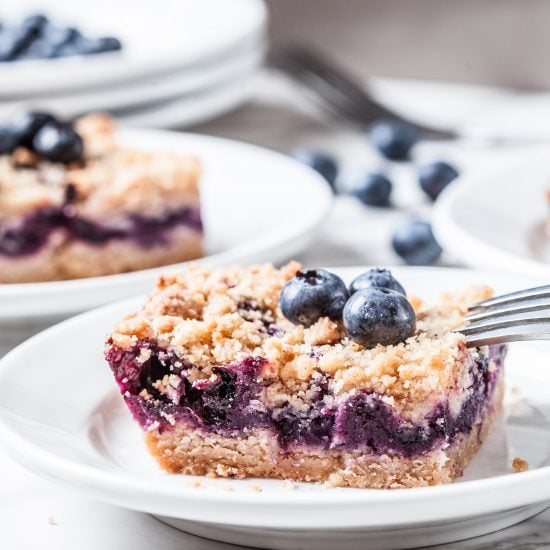 Fresh Peach Pie with Flaky Butter Crust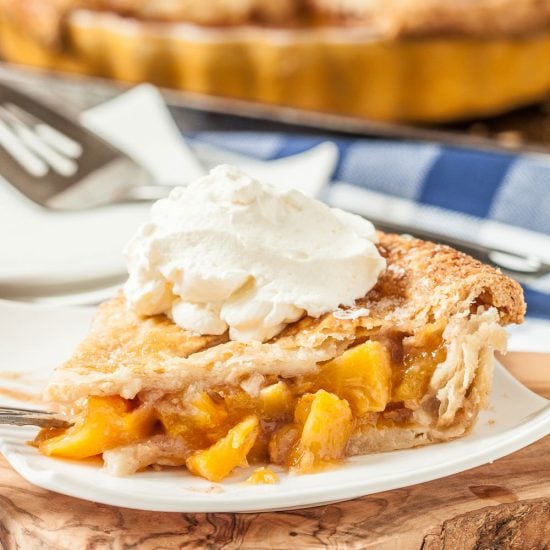 Best Banana Cream Pie Recipe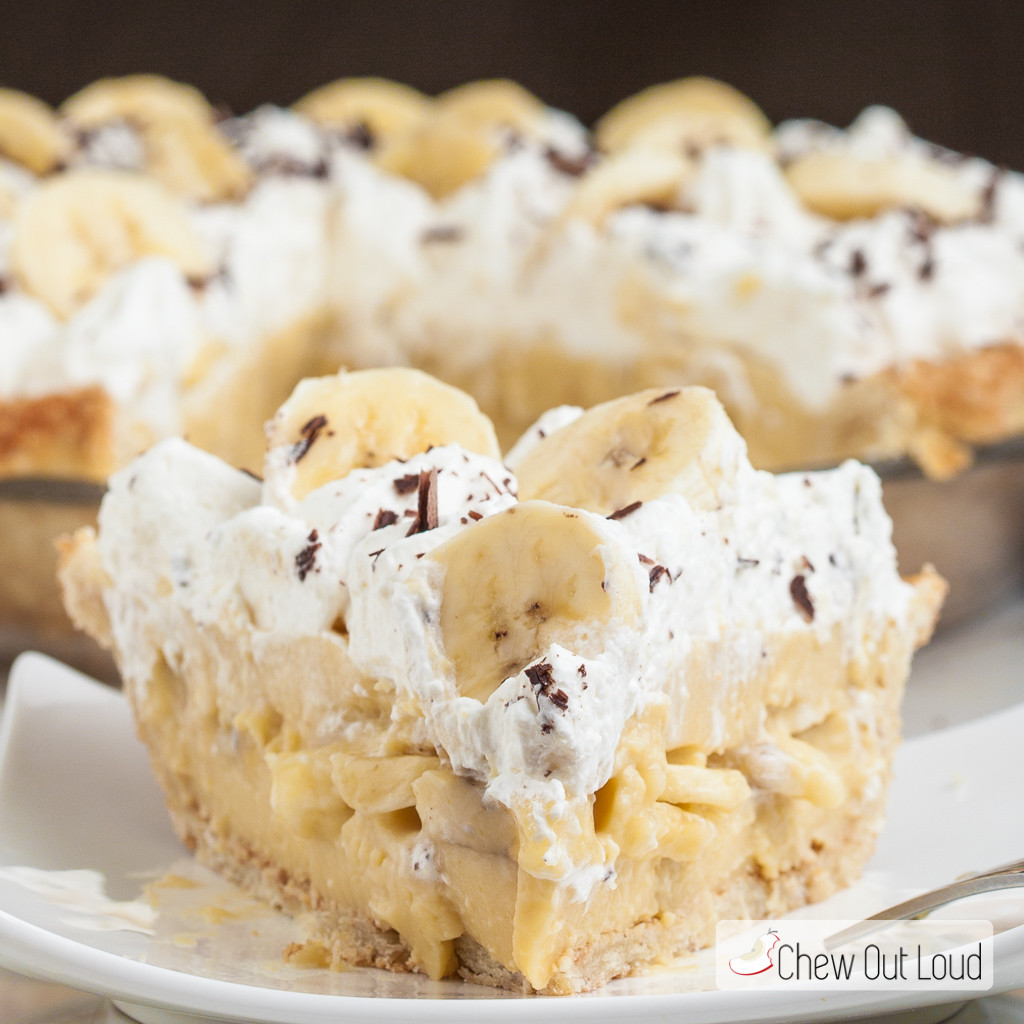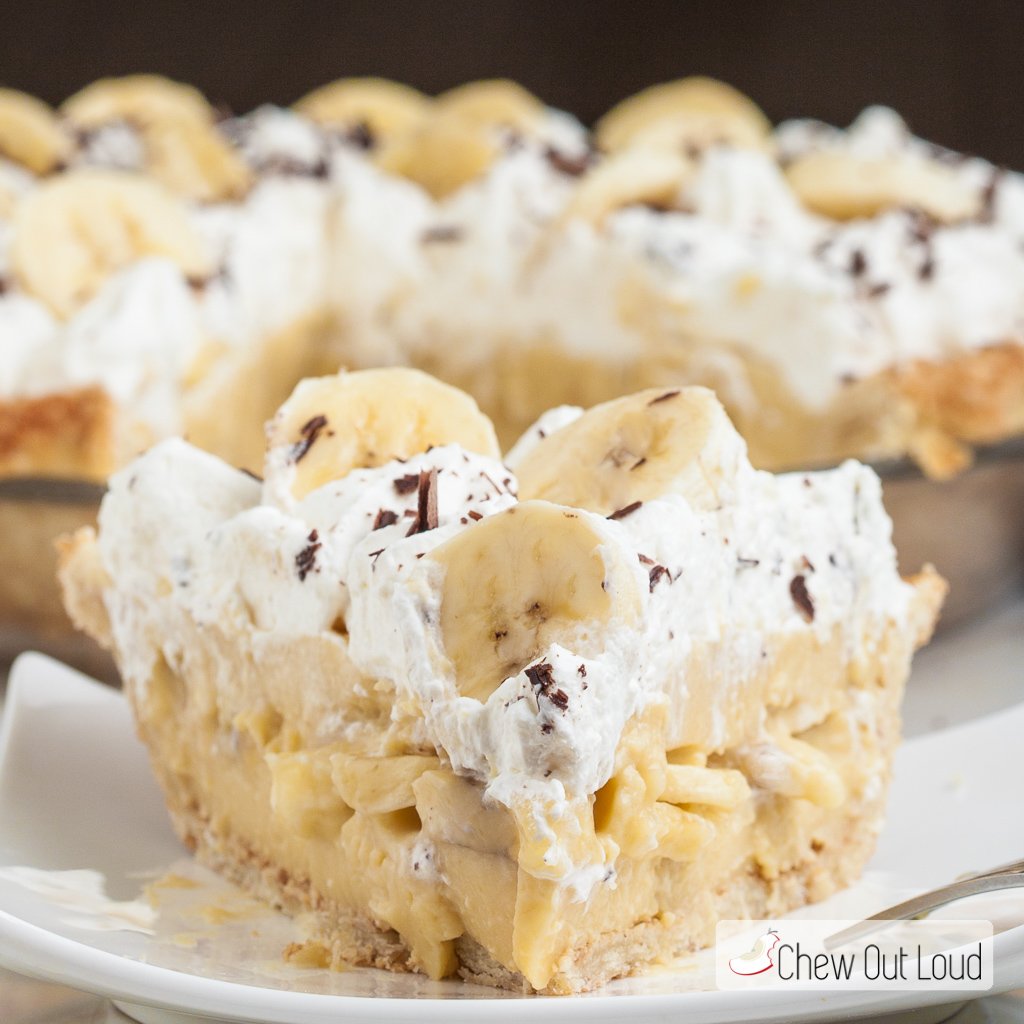 Best Apple Pie with Flaky Butter Crust