This healthy pumpkin spice smoothie is the perfect breakfast for sipping on this fall packed with flavor from canned pumpkin, banana, cinnamon, nutmeg, and ginger. 
Fall is here and that means all things pumpkin spice! My go-to smoothie this summer was this blueberry cashew smoothie but with the season change, I figured it was about time to switch things up. This simple pumpkin spice smoothie is my favorite way to use up any leftover canned pumpkin I have from other recipes because they hardly ever use a full can of pumpkin it seems.
Why You'll Love this Recipe
Fall favorite: The perfect breakfast for the early days of fall when you want all things pumpkin but it is still too warm for a hot breakfast.
Adaptable: Easily adapt this recipe with your favorite milk or yogurt. Since I am plant-based, I like to use non-dairy options like soy milk and almond yogurt.
Dietary Preference Friendly: Easily swap an ingredient or two to make this smoothie fit your dietary needs –> Vegan/Vegetarian/Gluten Free/Dairy Free.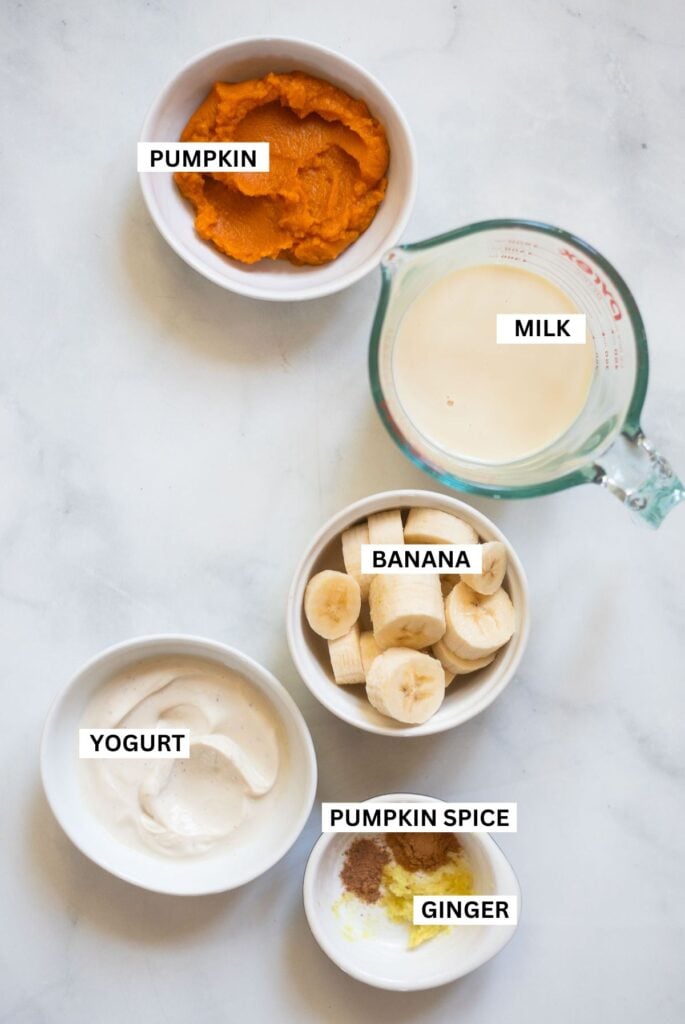 Ingredients You'll Need
Pumpkin: Pumpkin is a great source of vitamin A. In fact, you'll get more than 100% of your daily needs for vitamin A just by sipping on this smoothie! So, what does vitamin A do again? It is a critical nutrient for eye health, supports a healthy immune system, and plays a role in red blood cell formation just to name a few of its functions. Pumpkin is also a good source of potassium which many Americans are lacking in their diet.
Soy Milk: I like using plain, unsweetened or vanilla soy milk in my smoothies because it provides more protein than other plant-based milks. However, feel free to use your favorite plant-based milk like almond or oat milk which are just as tasty in this smoothie! (Psst.- have questions about soy? Check out this post!)
Yogurt: Use a non-dairy yogurt if you want to make a vegan smoothie. I like the Greek style vanilla yogurt from Kite Hill. Just like dairy based yogurts, the plant-based versions still provide gut-healthy probiotics.
Banana: Banana adds some sweetness to this smoothie. Banana is a good source of prebiotics which help feed the healthy bacteria in your gut. Don't like banana? Use 1/2 cup frozen riced cauliflower instead to add creaminess.
Cinnamon/Nutmeg/Ginger: These popular spices are also great sources of antioxidants which help fight inflammation which can lead to more serious chronic disease down the road.
How to Make this Smoothie
Add all of your smoothie ingredients to a high speed blender and puree until smooth. Pour into glasses and serve immediately. You can store the smoothie for 1-2 days in the fridge in a glass jar with a lid or other airtight container.
To freeze, pour smoothie into ice cube tray and freeze into cubes. Store frozen smoothie cubes in a ziplock bag. When ready to use, add to blender with a slash of milk and puree until smooth.
Nutrition Boosters
Hemp Hearts: add a serving of hemp hearts (3 tablespoons) to your smoothie before blending for an extra 9.5 grams of protein, 1 gram of fiber, and heart healthy fats.
Chia Seeds: add a serving of chia seeds to the blender before pureeing for an extra 5 grams protein, 10 grams fiber, and heart healthy omega 3 fats.
Protein Powder: add a scoop of protein powder for some additional protein. Ritual protein powder (affiliate) is my favorite plant-based option!
Almond Butter: a tablespoon of almond butter will provide an additional 3.4 grams protein, 1.5 grams fiber, and healthy unsaturated fats to keep you feeling full longer.
Cashews: add a serving of cashews (~18 nuts) to the blender when pureeing for an extra 5 grams of protein, 1 gram fibers and 11% of your daily needs for iron.
Frequently Asked Questions
Is canned pumpkin puree good for you?
Yes! Some people worry that canned fruits and vegetables are less nutrient dense than fresh. Canned produce like pumpkin is still loaded with good for you nutrients like vitamin A, potassium, and iron.
Can you free pumpkin puree for smoothies?
Yes! Pumpkin puree can easily be frozen and used for smoothies or other recipes. I like to freeze leftover pumpkin puree in an ice cube tray and then I just pop in 4 frozen pumpkin ice cubes for this smoothie recipe when I need it.
How long does canned pumpkin puree last in the fridge?
You can keep leftover canned pumpkin puree for up to 5-7 days in the fridge. Make sure to transfer to a storage container rather than storing it in the can.
Looking for more healthy smoothie recipes? Check out these!
Pumpkin Spice Smoothie
Created by: Dietitian Debbie
This healthy pumpkin spice smoothie is the perfect breakfast for sipping on this fall packed with flavor from canned pumpkin, banana, cinnamon, nutmeg, and ginger. 
Prevent your screen from going dark
Ingredients  
1/2

cup

canned pumpkin puree

1

cup

plant-based milk, unsweetened

1/3

cup

plain non-dairy yogurt

1

banana*

1/2

teaspoon

pumpkin pie spice

1

teaspoon

minced fresh ginger (or 1/2 tsp ground ginger)
Notes
Use frozen banana for a thicker, chilled smoothie

Optional add-ins to increase the protein/fiber: 3

 tablespoons hemp hearts, 1/4 cup cashews, 1 tablespoon almond butter, 2 1/2 tablespoons chia seeds

Want to sweeten this smoothie? Add 1-2 teaspoons maple syrup or a chopped, pitted date. 
*Don't like banana? Use 1/2-1 cup frozen riced cauliflower instead to add creaminess without banana.
Nutrition
Serving: 1Smoothie | Calories: 373kcal | Carbohydrates: 54g | Protein: 13g | Fat: 14g | Saturated Fat: 2g | Polyunsaturated Fat: 5g | Monounsaturated Fat: 5g | Sodium: 135mg | Potassium: 1051mg | Fiber: 9g | Sugar: 29g | Vitamin A: 20075IU | Vitamin C: 43mg | Calcium: 480mg | Iron: 3mg
Reader Interactions