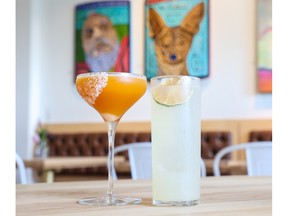 Reviews and recommendations are unbiased and products are independently selected. Postmedia may earn an affiliate commission from purchases made through links on this page.
Article content
These days, the cocktails you'll find in high-end bars are miniature works of art, designed to be sipped, savoured and, yes, photographed. It only makes sense for these drinkable objets d'art to be enjoyed alongside more traditional mediums of artistic expression. That's the thought behind the Artist Lounge, a new cocktail bar and tapas restaurant located within the Ruberto Ostberg Gallery, a tucked-away art space in Capitol Hill.
Article content
The Ruberto Ostberg Gallery has been a fixture in Capitol Hill for many years (it's kitty-corner from the also long-standing Weeds Cafe and across the street from the soon-to-be-opened new Lil' Empire Burger location) and owner Anna Ostberg wanted to create something that would add value to the gallery experience. When the next-door space previously occupied by Bathrooms by Design became available, Ostberg put together an ownership and management team that includes her husband Mitch, Sean Campbell and Khalid Omokanye to develop a lounge concept. Omokanye, who has a Master's degree in architecture, initially came on board to design the lounge and soon found himself building the interior, and eventually stayed on to become the general manager.
Article content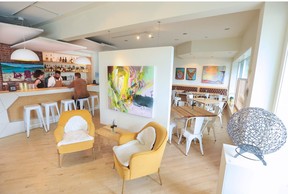 With Omokanye's keen eye and Ostberg's curation, the 60-seat room (fronted by a 30-seat patio) is a feast for the senses, with a unique geometric bar, comfortable seating, and, of course, plenty of art. The lounge is separated from the main gallery with a pivoting divider, but the walls of the lounge are still the domain of Ruberto Ostberg Gallery, with pieces changing regularly.
Chef Trent Bochek (previously the executive chef at Spot On and 4th Spot) keeps his kitchen separate from the gallery itself, cooking just behind the building in an outdoor shipping container that once served as the kitchen for the dearly departed Coal Shed Smoke House in Bowness. His menu consists of finger food-style small plates meant to complement the art.
Article content
"The food is all a play of what you'd normally see in an art gallery in terms of hors d'oeuvres and whatnot," Omokanye says. "You could theoretically pick up your plate and stroll around and look at the art — we wanted to keep a bit of that feeling."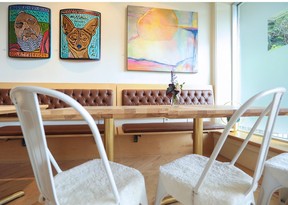 Omokanye says that the menu is bound to change (some regulars are requesting more substantial meal-size dishes), but for now, Bochek is cooking up elegant globally inspired bites like a Cajun take on patatas bravos with chimichurri and tomato jam ($7), coconut prawns with roasted pineapple ($8), and chicken flautas with chipotle cream and queso fresco ($8). Since putting together a meal of tapas can be a daunting task, guests can also order the TAL flight, with samples of seven different tapas ($35) for a well-rounded meal.
Article content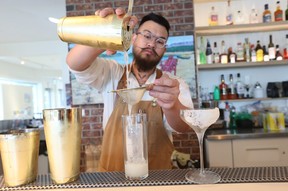 Where things really get wild, though is with the drinks. Omokanye brought in popular local bartender Jimmy Nguyen to work his magic behind the bar, with a selection of highly creative alcoholic and no/low alcohol drinks. A master of unusual ingredients, Nguyen puts things like mole and cricket salt in his "Fozzie the Bear says Oaxaca Oaxaca" (which is particularly fun to order out loud) and pho syrup in the "Lunch Lady." Best of all, most of the cocktails come in at $14 or less, which is a deal compared to some of the downtown cocktail bars.
The Artist Lounge is located at 1840 20th Ave. N.W. and can be reached at 403-455-0992 or through theartistlounge.ca. The lounge is currently open Thursday through Sunday, with hours varying each day.
Article content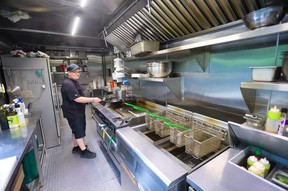 ***
In other local tapas bar news, the 17th Avenue S.W. restaurant formerly known as Lately re-opened earlier this spring as Lily Asian Bistro, a fully re-imagined Asian-inspired tapas spot. Owner David Martin was a co-owner at Lately, but he now runs Lily on his own and has made considerable changes that go beyond the concept of the menu. The expansive room now has a more refined grown-up feel and has lost some of the clubby vibes of its previous incarnation (though there is now a private karaoke room for guests who want a more lively night out).
Martin has positioned Lily as a bao bar where patrons can customize steamed buns, adding proteins like sake cured trout, tempura tofu, or togarashi cheeseburger (the fillings are provided a la carte, but complete baos will end up costing anywhere from about $5 to $13). The rest of the menu is filled out with things like grilled yakitori skewers served with miso butter ($4-$5), fried brussels sprouts in a Korean barbecue sauce ($7), and grilled shishito pepper "roulette," a nod to the fact that one in 10 of the typically mild peppers tends to carry some intense heat ($8), as well as some larger format plates like cashew steelhead trout in a coconut curry sauce ($18) and gochujang chicken with shemeji mushrooms ($17). The flavours are mighty and the prices are quite reasonable, especially by Beltline standards.
Lily Asian Bistro is located at 1438 17th Ave. S.W. and can be reached at 587-353-5459. The restaurant is open Tuesday through Sunday from 5 onwards.
Elizabeth Chorney-Booth can be reached at elizabooth@gmail.com. Follow her on Twitter at @elizaboothy or Instagram at @elizabooth.